FPM 407 motor mowers are designed for mowing of all types of grass, forage plants, medicinal herbs and grains, and are particularly suitable for use in mountainous terrain, inaccessible for tractor machinery. They are equipped with a gearbox that has one speed for moving forward and one for reverse. In addition to mowing, they can also be used for hay raking, irrigation and snow removal.


Advantages:

- Can operate on slopes of up to 20°
- A number of implements can be attached
- Steel gearbox housing
- Professional and durable machines designed for intensive use


Key features:
---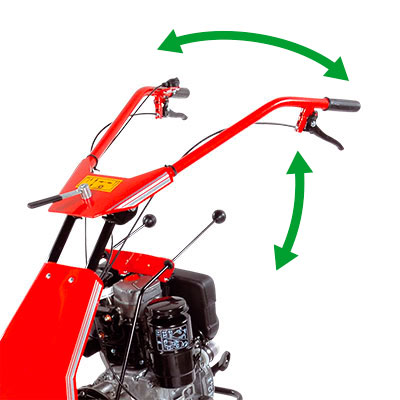 | | |
| --- | --- |
| |  Height and side adjustable handlebars. |
---
 Implements:
 
   a) Mower;
   b) Front-mounted rotary mower;
   c) Belt rake;
   d) Irrigation pump;
   e) Snowplough;
   f) Snow blower.
---
Type
FPM 407
Engine
CH270-Kohler
CH 395-Kohler
6 LD 360-Anadolu ili DMB
15 LD 315- Lombardi
178F - Campes/Kama
Engine type
single-cylinder, four-stroke, air-cooled
Fuel
gasoline
diesel
Power output (kW (hp) / r/min)
5,2(7) / 4000
7,1(9,7) / 3600
5,5(7,5) / 3000
5(6,8) / 3600
4,4(6) / 3600 ; 4(5,5) / 3600
Start
manual
Clutch coupling (clutch assembly)
dry, two clutch discs
Gearbox
♦ mechanical, with spur gears and worm gears for wheel drive
♦ two speeds, one forward and one reverse
Maximum speed (km/h)
5
Handlebars
- height and side adjustable
Wheels
♦ Tyre with rim (outer and inner tube),
♦ Tyre size 3.50" x 8"
Implements (options)
Double-finger mower (1.05 m or 1.3 m), park mower (0.6 m), belt rake (1.6 m), snowplough (1 m), snow blower, irrigation pump
Weight (kg)
148
158
175
166
172